The Report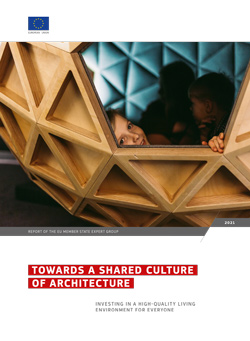 This report shows how the culture of quality architecture and living environment could be developed across Europe. Based on information sourced from a diverse range of initiatives and guiding documents, the report has compiled prevalent trends and best practices in the governance of contemporary spatial design in order to provide recommendations at multiple levels ensuring high-quality in architecture and the built environment for everyone.
Born out of the 2019-2022 EU work plan for culture, the report "Towards a shared culture of architecture - Investing in a high-quality living environment for everyone" was published as the European Commission launched the New European Bauhaus initiative. Clearly, the momentum is here, and in that light, spatial design and architecture should not be seen as separate services or areas of expertise, but as being part of the multidisciplinary response to social demands and environmental challenges. This report explains a comprehensive set of quality criteria to assess the different aspects of living environment. Building on the Davos Baukultur Quality System, the report offers eight fundamental quality criteria that each describes an aspect of high-quality Baukultur: governance, functionality, environment, economy, diversity, context, sense of place and beauty.
A collection of Case Studies introduces ideas on how to operationalise those quality criteria and how to put them into action at multiple governance levels. For this purpose, the report provides a checklist to assess achieving quality in planning processes.
Since altering spaces is costly, the quality of the built environment is closely linked to its adaptability and future proofing. Regarding the global shift in sustainability and climate goals, it is important to take into account how (at what cost) spatial solutions can be adapted in future. Beyond highlighting the driving role of the public sector in advancing placemaking culture, the recommendations turn attention to raising spatial awareness, plus the education and skills of the next generation. This report shows how quality living space can not only meet functional, technical, ecological and economic requirements, but also fulfil design objectives when it comes to aesthetic, social and psychological aspects and cultural needs, such as a sense of place and belonging.
High-quality design and well-considered interventions can sustain the life and authenticity of cultural assets and avoid adverse loss of their cultural significance. Yet beautiful, liveable and lovable towns, villages and landscapes with local identity can only be created if quality standards are met throughout the process of planning and building; from ideation to completion and reuse.
Quality projects can only emerge from interdisciplinary discourse, innovative funding schemes and with the active participation of informed citizens. New and effective models of participation can help civil society to organise itself with the aim of influencing the design of the built environment. As such, this report aims to pave the way to for comprehensive culture-centred approach to the built environment, demonstrating how to improve the design processes of the places in which to live, and to ensure that the legacy that society leaves not only fulfils functional, technical and economic demands, but also connects people and promotes social interaction.
Who is this report for?
With its inclusive and holistic approach this report will provide various stakeholders with new ideas and approaches, in particular decision-makers in the fields of architecture and the built environment, the culture and heritage sector as well as those tasked with spatial planning and sustainable development at local, regional, national and European levels. But "Towards a Shared Culture of Architecture – Investing in a high-quality living environment for everyone" is also meant as a valuable resource for clients, civil servants and other relevant stakeholders. Key actors (partners, stakeholders, target groups) include:
EU institutions in charge of education and culture, research, innovation and development (RI & D), territorial and cohesion policies, investment programmes and financial resources;
national governments and public bodies of the EU Member States and associated countries;
state architect teams (or similar expert groups at the national, federal or regional level);
city architects and their teams and local or regional governments across the EU;
(Spatial planning, design, construction – Baukultur) professionals and experts both within public authorities and administrations as well as in the private sector, professional associations and NGOs working in the field;
specialists in related sectors, including investors, developers, owners and operators who have responsibility for parts of the built environment
educators of Baukultur experts in the public sector at the national, regional and local levels
providers of guidelines on the built environment for private sector stakeholders as well as local administrations
research centres and universities who conduct studies and offer courses on the built environment
cultural and creative professionals invested in the idea that creativity, arts and culture play a vital role in bringing urgent solutions to the climate change challenge to the forefront; in imagining, communicating and building a sustainable future; and in encouraging and facilitating action and change at all levels of society
The following quality principles and related assessment tools may also be used by anyone else with an interest in the topic. We all conduct our lives in the built environment and experience it on a day-to-day basis – therefore the issues surrounding planning and building concern everyone. Implementing quality principles can help to raise awareness of this fact; an innovative set of guiding principles will assist people with reflecting on the quality of their surroundings and provide the necessary tools to assess the quality of a place.
Key recommendations
These recommendations directly address the key tasks identified by the OMC expert group members who compiled this report. Aiming for the following goals will help create a high-quality living environment for everyone.
High-quality procedures and solutions become best-practice models.
As guidance on how to improve the built environment for everyone, the highly relevant quality principles mapped out in the Davos Declaration (and the DBQS should become best practices in both the public and the private sectors, alongside the eight quality criteria provided in this report. No governance decision should reduce the quality of a place. We have inherited the built environment we live in, with its already existing spatial context. Balancing (sometimes conflicting) interests in the decision-making process should always result in a compromise that improves the built environment for as many people as possible – for everyone, for as long as possible.
Everybody has access to knowledge about quality.
It is essential to raise awareness of the topic early on. Good examples of how we can improve spatial knowledge and skills exist in formal and informal education to equip the next generation with a better understanding of the challenges and qualities of the built environment. There are many useful examples of how greater awareness of the topic among the general population has a positive impact on all built developments in the long run (see case studies presented under 'Awards' and 'Education and awareness raising' in the report).
Decision-makers subscribe to quality.
The decision-making processes for the built environment become a success if as much knowledge and competence as possible is invested at all administrative levels. High-quality design solutions must be based on knowledge, and must have the currently available and, for every place, the most suitable knowledge built into them. In addition, they should ideally bring forward the development of new knowledge and skills. All decisions on the design and use of space have a long-term impact on the living environment. For decision-making and planning processes to be very well in-formed about the standards and expectations around quality, decision-makers should have the most relevant information at their disposal. Such spatial competence (subscribing to quality) (link to further information: https://davosdeclaration2018.ch/davos-declaration-2018) will result in greater expertise and accountability when making and implementing decisions that influence the development of spaces (see case studies presented under 'Laws and policies' and 'Tools, processes and research').