Issue 104
March 2022
ISSN 2315-0017
EU Newsflash
Official EU resources of information related to the ongoing aggression against Ukraine:
Spotlight on preventing and combating specific forms of violence
Violence against specific groups of people is the ultimate act of discrimination. The EU takes active measures to prevent and combat violence and its causes, with a strong emphasis on the protection of vulnerable groups.
In 2017, the EU signed the Council of Europe Convention on preventing and combating violence against women and domestic violence (the Istanbul Convention). Women and girls are the main victims of such gender-based violence, but men can also be affected. The Istanbul Convention sets legally binding standards to prevent gender-based violence, protect victims and punish perpetrators. Furthermore, on International Women's Day 2022 (8 March) the Commission proposed EU-wide rules to combat violence against women and domestic violence.
LGBTIQ+ people frequently become targets of violence. Other vulnerable groups more likely to suffer from specific forms of discrimination and violence include, but are not limited to, people with disabilities, homeless people, isolated older people, migrants and people belonging to ethnic minorities. In June 2021, the Council of the European Union approved conclusions on the protection of vulnerable adults across the EU, while 1 month earlier, the Council of Europe adopted a new action plan on protecting vulnerable persons in the context of migration and asylum covering the period from 2021 to 2025. The latter builds on the previous action plan, focused on children, and proposes targeted measures to enhance the capacity of EU Member States to address vulnerabilities in asylum and migration procedures. As our eyes are turned towards the aggression against Ukraine, and the EU stands ready to protect vulnerable people in the context of migration and asylum in Europe, these actions are particularly relevant.
This edition of our newsletter features EU publications on preventing and combating specific forms of violence, along with publications on other interesting topics.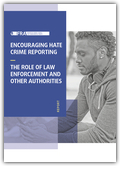 Encouraging Hate Crime Reporting
PDF/Paper
The role of law enforcement and other authorities
This publication examines the reasons victims do not report bias-motivated incidents and the barriers that they face when reporting incidents through national crime reporting systems. By mapping existing practices that have a bearing on victims' experiences when reporting bias-motivated violence and harassment, this publication aims to support national efforts to encourage and facilitate reporting – and ultimately to assist Member States in delivering on their duties with regard to combating hate crime.
Available in English
Tackling Violence against Women and Domestic Violence in Europe
PDF
The added value of the Istanbul Convention and remaining challenges
This study evaluates the implementation of the Istanbul Convention, its added value and the impact of the COVID-19 pandemic on violence against women and domestic violence. It takes into account developments in the 27 EU Member States and in Turkey, which offers a point of comparison as a non-EU country regarding the impact of the ratification of the convention. If you have a particular interest in the issues related to domestic violence, you can also check this relevant dataset by the European Institute for Gender Equality.
Available in English
Femicide
PDF
A classification system
Femicide is the killing of women carried out by men, encouraged by an asymmetrical power dynamic. To eradicate this phenomenon, we need to understand its causes, which in turn requires the classification of different types of femicide. This is the aim of this report.
Available in English
More on this topic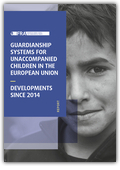 Guardianship Systems for Unaccompanied Children in the European Union
PDF/Paper
Developments since 2014: Report
Unaccompanied children are particularly vulnerable to discrimination, violence and crime. In 2015 and 2016, the number of unaccompanied children arriving in Europe increased dramatically, straining national guardianship systems. This report looks at how EU Member States, along with North Macedonia and Serbia, have adapted their guardianship systems for unaccompanied children since that time. The findings are particularly timely given the ongoing aggression against Ukraine and the increasing number of unaccompanied children entering the EU in early 2022.
Available in English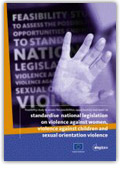 Feasibility study to assess the possibilities, opportunities and needs to standardise national legislation on violence against women, violence against children and sexual orientation violence
PDF/Papier
Acts of violence against different groups can have significantly different causes, enabling factors and countermeasures. At the same time, such acts have many similarities, as, in the end, they violate other people's fundamental rights. This publication provides a comparative analysis between violence against women, children and LGBTIQ+ people, thus paving the way towards possible universal measures against all such forms of violence.
Available in English, French and German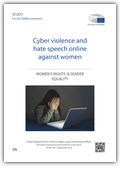 Cyber Violence and Hate Speech Online against Women
PDF
This study investigates the phenomenon of cyber violence and hate speech against women in the EU. After reviewing existing definitions of the different forms of cyber violence, the study assesses the root causes and the impact of online violence on women. It continues by analysing and mapping the prevalence, victims and perpetrators. It concludes with an outline of the existing legal framework and recommendations for action within the EU remit.
Available in English
Research and innovation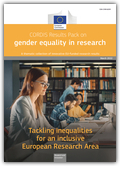 CORDIS Results Pack on Gender Equality in Research
PDF
Promoting gender equality and better representation of women in our European society is a longstanding EU commitment. However, despite significant progress over the last decades, gender inequality remains a prominent issue. Published to mark International Women's Day 2022, this results pack seeks to raise awareness of the importance of a gender perspective in research and innovation.
Available in English (Individual article also available in English, French, German, Italian, Polish and Spanish on the CORDIS website)
You may also like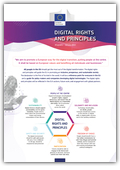 Digital Rights and Principles
PDF
All people in the EU should be able to get the most out of the digital transformation. The digital rights and principles will help promote an inclusive, prosperous, and sustainable society, and the related declaration is the first of its kind in the world. Find out more in this factsheet.
Available in all the official languages of the EU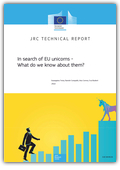 In Search of EU Unicorns
PDF
What do we know about them?
'Unicorn' is the term used in the venture capital industry to describe a start-up company with a value of over USD 1 billion. This paper provides insights into the geographical and sectorial distribution of EU unicorns. It explores where they are located, how old they are and how they reached unicorn status. The analysis takes the form of a comparative study of unicorns from the EU, China and the United States.
Available in English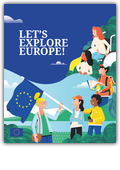 Let's Explore Europe!
PDF/Paper
Available in all the official languages of the EU
We come from different countries and speak different languages, but the European continent is the home we share. Our countries have been working together since the very beginning of the European Union to help each other and make sure we live together in peace. Soon it will be your generation's turn to take charge. You're the future of the EU! So let's discover more about the EU together.
Available in English
Our news

Access to European Union law

The online library and bookshop of the European Union

Public procurement within the European Union
The official portal for European data

EU-funded research projects and their results

The official directory of the European Union