EU newsflash
Coordinated EU response to the COVID-19 outbreak
Together with European society, the European Commission is looking for solutions to challenges related to the coronavirus. Between 24 and 26 April, the first pan-European hackathon will take place to address these challenges. #EUvsVirus
Misinformation and disinformation in the health space are thriving, including on COVID-19. Stay well informed.
Spotlight on the COVID-19 outbreak
Over the past weeks, the whole planet has been confronted with the impact of the coronavirus pandemic. It changed our lives overnight and has since made us face unprecedented situations. Health systems are being stressed over their capacities. Lives have been lost while others are fighting to stay alive. Most countries have imposed strict protective measures, including confinement at home, to counter the rapid propagation of the virus.
While individual countries have been fully responsible for managing their health systems and delivering medical care to their citizens, the EU as a whole has been working on all possible fronts and around the clock to mobilise all its resources to:
Despite the great challenges for all countries, we are also witnessing European solidarity at its best: donations of protective equipment, cross-border treatment of patients, stranded citizens being brought home and help provided to those badly affected. This is in everyone's interest, as no single country can beat the crisis alone.
This month's newsletter could not be dedicated to any topic other than the COVID-19 outbreak. Below you will find publications related to it but to other interesting topics as well. You can also check out the special bundle on the EU Publications website, which will be updated with new releases. We will get out of this crisis by standing united and working together. Until then, stay safe!
PDF

EU coronavirus response

This factsheet provides information on the EU coronavirus response in a nutshell. If you are looking for more information, you may also visit:

Available in all the official languages of the EU except Irish

PDF

Supporting our partner countries

The coronavirus pandemic is a global crisis. It can only be solved at global level. A strong European response in support of our partners is the only way to put an end to the spread of the virus and to avoid spill-over effects on social stability and security in our partner countries. This factsheet provides information on what the EU is doing.

Available in all the official languages of the EU except Irish

PDF

While we are still in firefighting mode, the necessary and extraordinary measures taken by Member States and the EU are working, as they have slowed down the spread of the virus and have saved thousands of lives. However, these measures and the corresponding uncertainty come at a dramatic cost to people, society and the economy, and cannot last indefinitely. This factsheet presents the European roadmap to phase out the containment measures put forward by the Commission, in cooperation with the President of the European Council.

Available in all the official languages of the EU
More on this topic

Dataset

This dataset by the European Centre for Disease Prevention and Control contains the latest available public data on COVID-19, including a daily situation update, the epidemiological curve and the global geographical distribution. The dataset also offers a visualisation of the situation worldwide.

You can find more datasets about COVID-19 from European countries on the European Data Portal as well as a dedicated group of data on the EU Open Data Portal.

Available in English

PDF

Fundamental Rights Implications

The outbreak of COVID-19 affects people's daily life. As the number of infected people in the EU began to mount rapidly in February and March, governments put in place a raft of measures – often introduced within a period of only a few days – in an effort to contain the spread of the virus. Many of these measures reflect how, in exceptional emergency situations, the urgent need to save lives justifies restrictions on other rights, such as the freedom of movement and of assembly. This report outlines some of the measures Member States have put in place to protect public health during the COVID-19 pandemic. It covers the period 1 February–20 March 2020.

Available in English

The European Union is responding to the outbreak of COVID-19 and its consequences by adopting a wide range of measures in many areas (health, economy, research, border, mobility, etc.).

Here you will find a non-exhaustive list of legal documents published on EUR-Lex related to the common European response to the COVID-19 pandemic.

The purpose of this page is to facilitate access to tenders related to the COVID-19 pandemic. In this context, the list you will find here highlights public procurement in the area of medical equipment, thus mirroring the needs of healthcare services and authorities.
Research and innovation

Here you can find the whole set of Community Research and Development Information Service articles about the coronavirus.

Almost all articles are available in English, French, German, Italian, Polish and Spanish
Also out recently

PDF

We have made great progress, but we are still vulnerable and our common commitment to fight global health challenges is not yet strong enough. Despite our knowledge, despite new technologies, without concentrated and global efforts we are limited in our success. Today we see it clearly.

In this volume, the Croatian physician and scientist Ivan Đikić analyses the challenges of contemporary medical research, the emerging threats like pandemics, and the role played by health systems. This is the 12th essay in the Big Ideas series created by the European Investment Bank.

Available in English

PDF

Performance of strong clusters across 51 sectors and the role of firm size in driving specialisation : 2020 edition – Study

Industrial clusters are responsible for a significant share of European jobs, small and medium-sized enterprises' growth, and specialisation within regions. This report analyses cluster strength across 51 exporting industry sectors in Europe and identifies 2 950 regional industrial clusters that account for almost every fourth job in Europe (61.8 million jobs or 23.4 % of total employment) and about half of the employment in exporting industries (50.3 %).

Available in English

PDF

Analytical report - Study

Students, teachers, families and other community members use digital technology as an educational tool in formal, non-formal and informal learning environments. While its use is widespread, increasing concern has emerged about its effects on children. This report reveals the most relevant and up-to-date scientific contributions worldwide about the effects of the use of digital technology on children's empathy and attention capacity, two dimensions that are considered crucial to students' development and success.

Available in English
You may also like

PDF

Cybersecurity, Internet of things and big data for small and medium-sized enterprises - Study

Digitisation of small and medium-sized enterprises is an important and great challenge: different evidence clearly shows that they are hesitant when it comes to adopting new technologies. Despite market volume or business growth opportunities, the majority of such enterprises keep lagging behind. This study analyses the root causes and the remedy to this situation.

Available in English

PDF/Paper

This publication for kids presents, in a light and entertaining way, the 27 Member States of the EU along with their main agricultural outputs. The name of each Member State is presented in its official language.

Multilingual publication in all the official languages of the EU except Irish

PDF/Paper

Have fun visiting beautiful castles and houses in Europe

This publication for kids presents 10 historic houses and castles, which are part of Europe's cultural heritage, along with interesting facts and photos. You can also print its pages and let kids colour in the houses and castles they like.

Available in English
Our news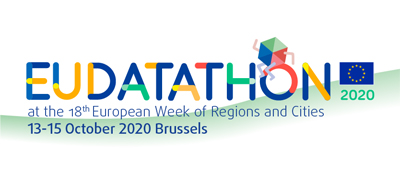 Among its other challenges, EU Datathon invites participants to submit their proposals to help tackle #COVID19.
If we work together and stay united, we will be stronger against the COVID-19 pandemic. The open data competition invites participants to submit their proposals, taking into account the current situation that is challenging everyone.
You can find information here: https://op.europa.eu/en/web/eudatathon/covid-19