15-16 September 2016:

Official publishers discussed improvements in their work for citizens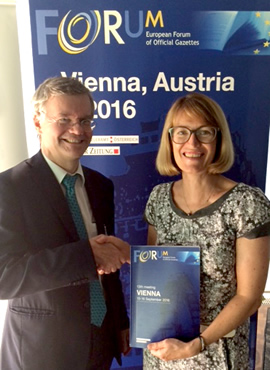 Heads and representatives of the European Official Gazettes met at their annual meeting in Vienna on 15 and 16 September 2016. They discussed ways to improve the impact of official publications on the citizen. Acknowledging the shifting trend of public political debate, they reinforced the progress made in sharing information on how to deal with this phenomenon and to work closely together.
Topics discussed highlighted the protection of personal data, innovation in legislative developments, and cyber security. The potential for creating vibrant, commercial business opportunities by combining public data or the reuse of public data, due to enhanced and open data, was underlined. Working groups reinforced the importance of technical developments in encouraging citizen participation and engagement in our legislative processes.
The outgoing President of the European Forum of Official Publishers, Veronique Lehideux (France) commented: `To manage and anticipate the pace of change in the technical and societal environment, Official Publishers must adapt to deliver what citizens want in their daily life´.The incoming President Karl Irresberger (Austria) stressed: `To share experience and learn from each other is the most effective and efficient way to manage the transformation process of public information and data today.'