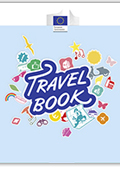 Travel book
Publication metadata
Živio! V rokah držiš svoj dnevnik potovanj. V njem je razloženo zakaj, in na kakšen način Evropska unija vlaga v posamezne regije. Potem pa… Odkrivaj sam! To je popolnoma tvoj dnevnik. Spremeniš lahko vrstni red strani, vanj lepiš nalepke, pišeš zanimive podatke, dodajaš fotografi je … Obilo zabave in živela Evropa!
Ahoj, v rukou držíš svůj vlastní zápisník z cest. Najdeš v něm, jak a proč Evropská unie investuje v jednotlivých regionech. Podívej se… a uvidíš! Zápisník je osobní. Tvůj. Můžeš si přeházet... stránky, lepit samolepky, psát si, co tě zajímá, přidávat fotky… Tak ať se ti to líbí a ať žije Evropa!
Sveiks! Šis ir Tavs personīgais ceļojumu piezīmju bloknots. Tajā skaidrots, kādā veidā un kāpēc Eiropas Savienība investē katrā reģionā. Izlasīsi un… viss ir Tavā ziņā! Tas ir Tavs bloknots un Tava izvēle. Vari mainīt vietām lappuses, pielipināt uzlīmes, atzīmēt saistošo informāciju, pievienot fotoattēlus u. tml. Lai Tev ir prieks... un lai dzīvo Eiropa!
Haigh! Tá do leabhar taistil féin idir lámha agat. Míníonn sé cén fáth agus conas a infheistíonn an tAontas Eorpach i ngach réigiún. Ina dhiaidh sin… ortsa atá! Tá sé pearsanta, is é do leabharsa é. Is féidir leat ord na leathanach a athrú, greamáin a chur isteach ann, rudaí spéisiúla a bhreacadh síos ann, pictiúir a chur leis… Bíodh spraoi agat agus go maire an Eoraip!
Hej, du har nu din helt egen rejsebog. Den forklarer, hvorfor og hvordan EU investerer i de enkelte regioner. Og så… det er op til dig! Den er helt din egen, det er din bog. Du kan ændre på sidernes rækkefølge, sætte mærkater ind, skrive de oplysninger, der interesserer dig, tilføje fotos… God fornøjelse og længe leve Europa!
Salut, tu as en main ton propre carnet de voyages. Il t'explique pourquoi et comment l'Union européenne investit dans chaque région. Après… à toi de voir ! C'est perso, c'est ton carnet. Tu peux changer l'ordre des pages, coller les stickers, noter les infos qui t'intéressent, ajouter des photos … Bon amusement et vive l'Europe
Cześć! To Twój własny przewodnik. Znajdziesz w nim informacje, jak Unia Europejska inwestuje w regiony i dlaczego to robi. A potem… decyzja należy do Ciebie! To Twój przewodnik. Możesz zmieniać kolejność stron, ozdabiać go naklejkami, notować w nim interesujące informacje, dodawać zdjęcia… Dobrej zabawy i niech żyje Europa!
Здравей, държиш в ръка своя личен пътеводител. Той ти обяснява защо и как Европейският съюз инвестира във всеки регион. След това… зависи от теб да разбереш! Това е лично, това е твоят пътеводител. Можеш да променяш реда на страниците, да лепиш стикери, да отбелязваш информацията, която те интересува, да добавяш снимки… Приятно забавление и да живее Европа!
Γεια, κρατάς το δικό σου ταξιδιωτικό σημειωματάριο. Εξηγεί γιατί και πώς η Ευρωπαϊκή Ένωση επενδύει σε κάθε περιοχή. Τα υπόλοιπα… είναι στο χέρι σου! Είναι το προσωπικό σου σημειωματάριο. Μπορείς ν' αλλάξεις τη σειρά των σελίδων, να κολλήσεις στίκερς, να σημειώσεις αυτά που σ' ενδιαφέρουν, να βάλεις φωτό... Καλή διασκέδαση και ζήτω η Ευρώπη!
Sveiki, savo rankose laikote nuosavą kelionių knygelę. Joje aiškinama, kodėl ir kaip Europos Sąjunga investuoja kiekviename regione. Na, o po to... spręsti Jums! Ši knygelė skirta asmeniškai Jums. Galite keisti puslapių eilės tvarką, klijuoti lipdukus, pasižymėti dominančią informaciją, įtraukti nuotraukų ir pan. Linkime smagios pramogos, tegyvuoja Europa!
Hi! Dies ist dein eigenes Reisebuch. Hierin wird erklärt, warum die EU in jede Region investiert. Dann… lass dich überraschen! Du kannst dein Buch ganz individuell gestalten: die Reihenfolge der Seiten ändern, Sticker einkleben, interessante Informationen notieren, Fotos hinzufügen und vieles mehr. Viel Spaß dabei und es lebe Europa!
¡Hola! Este es tu propio libro de viaje. Te explica el motivo y el modo en que la Unión Europea ha invertido en cada región. Ahora… ¡depende de ti echarle un vistazo! Es personal y es tu libro. Puedes cambiar el orden de las páginas, colocar pegatinas, anotar cosas interesantes, añadir fotos y mucho más. ¡Diviértete y disfruta Europa!
Hej och välkommen till din alldeles egen resebok! Den förklarar hur och varför EU investerar i olika regioner. Resten är upp till dig! Det är din egen, personliga bok. Du kan ändra ordningen på sidorna, sätta in klistermärken, anteckna saker du tycker är intressanta, lägga till bilder och liknande. Vi hoppas du får roligt! Heja Europa!
Szia! Ezt a füzetet útinaplóként használhatod. Megtudhatod belőle, hogy az Európai Unió miért és hogyan fejleszti a régiókat. A többit rád bízzuk! A füzet személyes jellegű, olyan, mint egy notesz. Átrendezheted az oldalait, matricákat ragaszthatsz bele, feljegyezheted az érdekességeket, fotókkal színesítheted… Jó szórakozást, és éljen Európa!
Hei! Tässä on oma matkakirjasi. Siitä saat tietää, miten ja miksi Euroopan unioni sijoittaa rahaa eri alueisiin. Loput saatkin päättää itse! Luo oma kirjasi muuttamalla sivujen järjestystä, liimaamalla tarroja, kirjaamalla muistiin kiinnostavia tietoja, lisäämällä valokuvia jne… Pidä hauskaa ja eläköön Eurooppa!
Salut, ai în mână propriul tău carnet de călătorie. Aici afl i de ce şi cum investeşte Uniunea Europeană în fi ecare regiune. Mai departe... este treaba ta! Ţine de tine, este carnetul tău. Poţi schimba ordinea paginilor, lipi etichete, nota informaţiile care te interesează, adăuga fotografi i... Distracţie plăcută şi trăiască Europa!
Kif inti? F'idejk għandek id-djarju tal-ivvjaġġar personali tiegħek. Dan jispjegalek għalfejn u kif l-Unjoni Ewropea tinvesti f'kull reġjun. Imbagħad… ara inti! Id-djarju huwa personali, tiegħek biss. Tista' tibdel l-ordni tal-paġni, twaħħal stikers, tikteb l-informazzjoni li tinteressak, iżżid xi ritratti… Ħu pjaċir u viva l-Ewropa!
Bok, u ruci držiš svoj dnevnik putovanja. U njemu se pojašnjava zašto i kako Europska unija ulaže u razvoj regija. A onda… na tebi je red! Ovaj je dnevnik samo tvoj. U njemu možeš mijenjati redoslijed stranica, lijepiti naljepnice, označavati zanimljiva mjesta, dodavati slike… Dobro se zabavi – živjela Europa!
Olá, este é o teu caderno de viagens… que te explica porquê e como a União Europeia investe em cada região. Depois… é contigo! É pessoal e intransmissível, é o teu caderno. Podes mudar a ordem das páginas, colar autocolantes, anotar coisas que te interessam, juntar fotos… Diverte-te e viva a Europa!
Ciao! Hai tra le mani il tuo diario di viaggio, che ti spiega come e perché l'Unione europea investe in ogni regione. Poi… sta a te scoprirlo! È il tuo taccuino personale. Puoi modifi care l'ordine delle pagine, attaccare gli adesivi, annotare le info che ti interessano, aggiungere foto… buon divertimento e viva l'Europa!
Tere! Hoiate käes oma isiklikku reisipäevikut. Siin on kirjeldatud, miks ja kuidas investeerib Euroopa Liit igasse regiooni. Edasi…, vaadake juba ise! See päevik on isiklik – sinu oma. Teil on võimalik vahetada selles lehekülgede järjekorda, lisada kleebiseid, märkida teid huvitavat teavet, lisada fotosid… Tundke rõõmu ja elagu Euroopa!
Ahoj, držíš v rukách svoj nový cestovateľský zápisník. Dozvieš sa v ňom, prečo a koľko investuje Európska únia do každého regiónu. A vlastne... veď ho otvor a uvidíš! Tento zápisník je tvoja osobná vec. Môžeš v ňom prehadzovať strany, lepiť si nálepky, robiť poznámky o tom, čo ťa zaujíma a vkladať fotky... Dobre sa bav a nech žije Európa!
Hallo! Dit is jouw eigen landenboekje. Je kunt hierin lezen waarom en hoe de Europese Unie in elke regio investeert. En verder… dat mag je zelf bekijken! Je kunt het allemaal zelf bepalen: of je de volgorde van de pagina's omgooit, stickers inplakt, leuke weetjes opschrijft, foto's toevoegt, zie maar… Veel plezier en leve Europa!
Hey! You're now holding your own travel book. It explains how and why the European Union invests in each region. After that, you can see for yourself! It's your own personal diary. You can change the order of the pages, add stickers, write down things you find interesting, put in photos, whatever you like. Have a good time and long live Europe!
| | ISSN | ISBN | DOI | Catalogue number |
| --- | --- | --- | --- | --- |
| Paper | | 978-92-79-49229-7 | 10.2776/63135 | KN-10-13-283-D5-C |
Available languages and formats