EU newsflash
On 16 September, President von der Leyen delivered her first State of the Union address to the European Parliament: "Building the world we want to live in: A Union of vitality in a world of fragility".
Spotlight on EU open data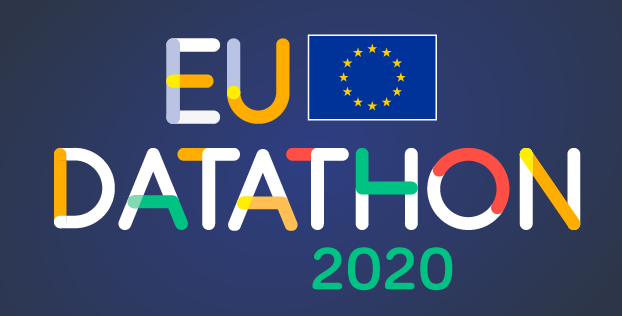 Curious to find out how EU open data can be used in practice?
Check out the 12 finalist teams and their ideas shortlisted for the final stage of the EU Datathon 2020 competition that will take place online on 15 October. Register to the online event here.
Did you know that public institutions create massive quantities of data during their activities? These data can be raw statistics, but also interactive maps, vocabularies, scientific databases, legal documents, geospatial information and so on. When these are made freely available to the public, they are called open data.
As the EU follows an open data policy, data generated during the activities of EU public institutions are by default open. You can find them, amongst others, through the EU Open Data Portal and the European Data Portal. The open data policy helps to stimulate innovation and economic growth since, in today's knowledge-based economy, data are an essential resource for businesses in developing new products and services. At the same time, the policy enhances transparency, accountability, evidence-based decision-making and civic participation in the political process.
The EU is committed to bringing the open data policy to the next level in the years to come. Therefore, the European Commission adopted a European strategy for data earlier this year. With this strategy, the EU aims to play a leading role in a society empowered by data.
This edition of the newsletter presents key publications on the EU's open data policy and many other interesting topics. Enjoy reading it and we wish you a smooth restart after the summer break!
PDF

Shaping Europe's digital future

Creating a single market for data will make the EU more competitive globally and will facilitate innovative processes, products and services. This factsheet presents the European data strategy aiming at achieving this goal.

Available in all the official languages of the EU

PDF

An important tool supporting the open data policy of the European Union is the EU Open Data Portal, which provides free and centralised access to an expanding range of datasets from the EU institutions, agencies and bodies. Consult this brochure to learn what may be in the portal for you.

Available in all the official languages of the EU except Irish and Maltese

PDF

Opportunities for value creation in Europe

The European Data Portal offers access to public-sector information harvested from public data portals across European countries. It also contains open-data use cases, analyses and studies. This study investigates the value created by open data in Europe and estimates it currently at EUR 184 billion. Efficiency gains from open data, such as potential lives and time saved and environmental benefits, are also explored and quantified where possible.

Available in English

PDF

Ireland, Spain and France

Open data has been on the agenda of national decision-makers across the EU for the past few years and they have a considerable interest in learning from Europe's trend-setting countries and transferring best practices to their own national contexts. This report captures developments in Europe's most mature open data countries and serves as a compact guide to a set of best practices identified.

Available in English
Research and innovation

PDF

Today, the EU has 24 official languages and three official alphabets (Roman, Greek and Cyrillic), with some 60 other languages being spoken in particular regions or by specific groups. This language diversity is celebrated through the European Day of Languages, which takes place every year on 26 September. The special feature of this Research*eu issue celebrates Europe's wonderful linguistic diversity by featuring EU-funded projects that are working in a variety of ways to enrich and preserve Europe's linguistic heritage.

Available in English

(Individual article also available in English, French, German, Italian, Polish and Spanish on the CORDIS website)

PDF

A European regional analysis

Using data from France and Italy, this study shows that mobility alone can explain up to 92 % of the initial spread of COVID-19 in these two EU countries, while this effect weakens slowly after the introduction of lockdown measures, meaning that mobility restrictions seem to have effectively contributed to saving lives. The study also finds that internal mobility is more important than mobility between provinces and that the typical lagged positive effect of reduced human mobility on reducing excess deaths is around 14-20 days.

Available in English
Also out recently

PDF/Paper

Facts and figures

How many people live in Italy? What's the political system in Lithuania? And what is the capital of Cyprus called? Find the answers to these questions and many more in the updated version of The European Union – Facts and figures. This booklet gives essential information on the European Union, its institutions, Member States and candidate countries. It contains facts about official languages, government websites and other useful data for each country.

Available in all the official languages of the EU

PDF

The annual safety review by the European Union Aviation Safety Agency presents data based on aviation accidents and serious incidents. In addition, it highlights a range of safety issues and safety improvement actions that are of interest to the European aviation community and the wider public.

Available in English

PDF

It is being increasingly recognised that the internet, in spite of all its benefits, can also have significant negative effects on individuals and wider society. This analysis reviews a selected number of potentially negative effects of internet use, namely: internet addiction, harm to cognitive development, information overload, harm to public/private boundaries and harm to social relationships and communities.

Available in English

PDF

Report

Immunisation through vaccination is the best defence against diseases that are serious and sometimes fatal, but preventable. In global terms, the Member States of the EU enjoy high levels of immunisation coverage, but there are areas where coverage is less comprehensive. This Special Eurobarometer investigates not only beliefs about vaccines among citizens of the European Union, but also levels of knowledge and patterns of behaviour.

Available in English
You may also like

PDF

Pollinators help plants to reproduce. When they visit flowers, they transfer pollen between the male and female parts of plants so that seeds and fruit can develop. There are thousands of different types in Europe, all with an important job to do, but their numbers are declining. This publication, which is also suitable for children, presents important pollinators of Europe and some interesting facts about them.

Available in all the official languages of the EU except Irish

PDF

This is the most recent edition of the EU Blue Economy Report, a publication that has become an essential reference tool for understanding past developments, trends and future opportunities in the blue economy and all individual economic activities related to the seas and oceans in the EU and its Member States.

Available in English

PDF/Paper

What you need to know as a senior EU citizen living in the UK

In this leaflet you can find information about Brexit, how it may affect you as a senior EU citizen and your family living in the United Kingdom, and what you may need to do next. It is purely for information purposes and has no legal force. It does not provide any legal interpretation of EU or UK legislation and is not meant to replace specialised legal advice on UK immigration rules.

Available in all the official languages of the EU except Irish