Spotlight on the EU Charter of fundamental rights
Fundamental rights set out minimum standards to ensure that any person is treated with dignity. They include, for example, your right to have access to justice or your right not to be discriminated against due to your ethnicity, age, disability, gender, sexual orientation and other reasons.
The Member States of the European Union have a long tradition of safeguarding fundamental rights. The EU itself is founded on the values of respect for human dignity, freedom, democracy, equality, the rule of law and respect for human rights. The European Union Agency for Fundamental Rights (FRA) was set up as an independent body to support this endeavour.
1 December 2019 marks the 10th anniversary of the EU Charter of Fundamental Rights entering into legal force; hence, a decade of human rights protection through a written bill of rights at EU level. The charter was innovative in various ways, notably since it includes, among other issues, disability, age and sexual orientation as prohibited grounds of discrimination, and enshrines access to documents, data protection and good administration among the fundamental rights it affirms.
Find out more about the EU Charter of Fundamental Rights in this month's newsletter, along with some of the most interesting EU publications on other topics, including research.
PDF/Paper

Your rights, from A to Z

Dignity, freedom, equality and solidarity are core values protected by law and enshrined in the European Union's Charter of Fundamental Rights. This publication presents Charterpedia: a free, practical and easy to use online space for you to discover and explore your universal rights.

Available in English

PDF

The EU is not simply a single market for goods and services. Europeans share values that are spelled out in the EU treaties and the Charter of Fundamental Rights guaranteeing rights to EU citizens. This factsheet provides a quick overview of what the EU does in the domains of justice and fundamental rights.

Available in all the official languages of the EU

PDF/Paper

This report by the European Union Agency for Fundamental Rights (FRA) covers several titles of the Charter of Fundamental Rights of the European Union and tracks progress and developments in the topics of equality, freedom and justice. It also presents the opinions of FRA on these developments. These opinions provide evidence-based, timely and practical advice on possible policy responses to be considered by the main actors within the EU.

Available in English

PDF/Paper

This is the latest report of the European Commission on the application of the EU Charter of Fundamental Rights. It informs citizens about situations in which they can rely on the EU Charter and explains the role EU institutions and Member States' authorities play in making fundamental rights a reality in their lives. Finally, it highlights how the fundamental rights enshrined in the Charter are relevant across a range of policies for which the EU is responsible.

Available in English, French and German
Research and innovation

PDF/Paper

In a dangerous and polarised world, security remains at the top of the political priority list. In fact, ensuring safety and security for European citizens is an EU obligation under the Treaties. In the special feature of this month's Research*eu, we meet seven EU-funded projects that have contributed to the development of new technologies that can effectively take on terrorism and help to make all of us safer and more secure as we go about our daily lives.

Available in English

(Individual article also available in French, German, Italian, Polish and Spanish on the CORDIS website)

PDF/E-book/Paper

Assessing multidimensional impacts of distributed ledger technologies - Study

This report brings together research from the Joint Research Centre, the European Commission's science and knowledge service. It provides multidimensional insights into the state of blockchain technology by identifying ongoing and upcoming transformations in a range of sectors and setting out an anticipatory approach for further exploration. Moving beyond the hype and debunking some of its controversies, it aims to offer both an in-depth and practical understanding of blockchain and its possible applications.

Available in English
Also out recently

PDF

Protecting taxpayers against fraud and corruption

This brochure introduces the European Public Prosecutor's Office (EPPO). The EPPO is currently being set up with the aim of becoming operational at the end of 2020. It will have its seat in Luxembourg and will be an independent and decentralised prosecution office of the European Union with the power to investigate, prosecute and bring to judgment crimes of fraud and corruption against the EU budget. Its unique power to bring criminal prosecutions at EU level means money invested in the EU budget will be better protected.

Available in Bulgarian, Croatian, Dutch, English, Estonian, French, German, Greek, Hungarian, Latvian, Polish and Slovak

PDF

October 2019

Created in 1979 for Parliament's first direct elections, the factsheets on the European Union are designed to provide non-specialists with a straightforward, concise and accurate overview of the European Union's institutions and policies. This publication contains around 180 factsheets covering five main areas: How the European Union works; Economy, science and quality of life; Cohesion, growth and jobs; Citizens: fundamental rights, security and justice; and the EU's external relations.

Available in all the official languages of the EU

PDF

2nd European education summit

This publication presents the political legacy of Tibor Navracsics who has been Commissioner for Education, Culture, Youth and Sport since November 2014. Working with Member States, Commissioner Navracsics advanced work across a broad range of policies and strengthened the evidence base available to policy-makers through the work of the Joint Research Centre. The actions and initiatives presented in the publication form the core of the Commission's work in these policy areas during his mandate.

Available in English

PDF/Paper

Statistics illustrated

This second edition of 'Key figures on Europe' follows on from the success of last year's publication. It aims to provide intuitive visualisations, innovative data presentations and concise text, so that users can rapidly obtain an understanding of the differences among Member States. The publication contains a selection of key indicators for the European Union and its individual Member States, drawing from the rich collection of data that are available at Eurostat.

Available in English, French and German
You may also like

PDF/Paper

At what age is it safe for infants to start eating puréed and finger foods in addition to breastmilk or formula? The European Food Safety Authority has recently completed a comprehensive evaluation of the scientific evidence on this topic, covering infant health, nutritional needs and development. This publication offers a plain-language summary produced to help non-specialists find the key information quickly.

Available in English, French, German and Italian

PDF

This publication by the High-Level Expert Group on Artificial Intelligence offers guidelines for trustworthy artificial intelligence (AI). Trustworthy AI has three components, which should be met throughout the system's entire life cycle. First, it should be lawful, complying with all applicable laws and regulations. Second, it should be ethical, ensuring adherence to ethical principles and values. Third, it should be robust, both from a technical and social perspective since, even with good intentions, AI systems can cause unintentional harm.

Available in all the official languages of the EU except Irish

PDF/Paper

Update from the EMCDDA expert network : July 2019

This publication provides an update on drug-related deaths in Europe, presenting and analysing the latest data and trends in drug-induced deaths and overall mortality among high-risk drug users in the European Union and beyond. It draws on contributions from specialists representing more than 40 countries at the latest meeting of the European Monitoring Centre for Drugs and Drug Addiction (EMCDDA) expert network on drug-related deaths in November 2018 as well as information provided by European countries in the annual reporting exercise.

Available in English
Our news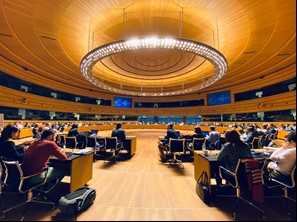 EU DataViz 2019: first international conference on data visualisation for the public sector in Europe took place in Luxembourg
The EU DataViz 2019, an international conference organised by the Publications Office of the European Union, took place on 12 November at the European Convention Center in Luxembourg. The event addressed for the first time the specific needs of the public sector data visualisation community in Europe. It brought together almost 500 experts, professionals and solution-seekers from around the world.
The conference was opened by Rudolf Strohmeier, the Director-General of the Publications Office, who underlined the importance of data in revolutionising modern societies. He highlighted the European Commission initiatives to maximise the potential of open data through data visualisation to enhance public services, hence the motto of the conference: 'Serving citizens through better data visualisation'.
The keynote address by Marc Hansen, Minister Delegate for Digitalization of the Luxembourgish government, recalled the importance that the government places on digital transformation and its work to enhance the attractiveness of Luxembourg as a digital pole.
High-level international experts referred to data visualisation as 'a great way to democratise data' and 'a game changer'. They also stressed the need for ethics since data visualisation is susceptible to misinterpretation and manipulation like any communication method.
In parallel thematic sessions, speakers from the World Bank, the Organisation for Economic Cooperation and Development and Harvard University, among others, shared their best practices in topics ranging from data exploration and new ways to present reports to emerging technologies in the field.
Closing the conference, Paul Hofheinz, President of the Lisbon Council, reminded all how data visualisation used in a responsible way is a powerful tool to help address social challenges of today.
The conference was supported by the ISA² programme of the European Commission that promotes interoperability solutions for public administration, businesses and citizens.
All presentations and recordings of the main sessions will be published on the conference website.